7 School Holiday Survival Tips (For Parents!)
July 23, 2017
Help Its School Holidays!
They have arrived for almost all of the UK now and for many parents it means six weeks of somehow juggling even more than usual. In the UK, according to the Modern Families Index (https://www.workingfamilies.org.uk/wp-content/uploads/2017/01/Modern-Families-Index_Full-Report.pdf) 48% of couple families said they worked full time and 57% of single parents reported working full time.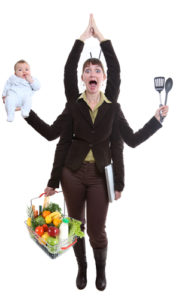 In addition to that there are hundreds of parents who work part time so managing to juggle work with school holidays is a challenge for many parents. But of course it's not just about surviving the summer holidays – what we want as parents is to provide for our children, be good employees, but also enjoy time with our little ones who will grow up all too soon – so making happy memories and having fun together is  important as well. And as conscientious parent we want to provide opportunities for them to keep learning- so not a tall order at all!!
But don't panic – here's some tips that will help to make it achievable and get it all in perspective
Planning 
Hopefully most of this will have been done by now – if not this is a priority so stop reading and get going on this right now! For most though there will be some sort of plan about who was caring for the children when and where. I used to find it helpful to have a weekly planner so we could all see the childcare arrangements at a glance and I always found it easy to 'muddle up' weeks – but maybe that was just me!
The priority here is to  make sure everyone involved is clear about the childcare – and working pattern of the adults. Everything else can be built around that.
On the days you are not working you can hopefully relax and enjoy time with your children but for the times you are working holidays often mean longer journeys to get your offspring to whoever is looking after them, and while uniform isn't a hassle they may need different stuff for holiday clubs and believe me you don't want to be unearthing the under stairs cupboard looking for swimming goggles or whatever at 6am.
If others are coming to your house to care for them that can reduce a lot of the hassle but I always felt sort of duty bound to make sure that there was food in the fridge and that they knew where the garage keys were, for the bikes and scooters and where the crayons, dinosaur stencils or favourite cups were too, so that you can avoid the phone calls when you are trying to get on with your work.
Don't aim for Perfect
You are a great parent! Start to believe that and during holidays don't aim for perfect. For example we all know it is important for children to have a healthy nutritious diet but during school holidays it might be simple fare for a few nights, or treats that they wouldn't usually have – it doesn't make you a bad parent – the more relaxed you can be the easier it is for everyone. When you do come home during the holidays what your children want is your time and attention not Cordon Bleu Cookery or a spotlessly clean and tidy house!! (As if this was ever a possibility anyway!) So just let the guilt go and do what you need to so you get through.
Family, Friends and Favours
This is the season to call in any all favours you have and if you are lucky enough to live in a supportive community there can be some great economies of scale. If I was taking a day off to look after my own I'd quite happily look after some of their friends too so that we could pool resources and each do a day then have a day that another parent had our children. It was a lifesaver. Family members can also be great at providing care though of course with raised pension ages I think we will be looking at lots of grand parents also juggling work and school holidays when it comes to grandparent childcare. Many families don't live near extended family members so while they can be a help it might take quite a bit of organisation.
Quality time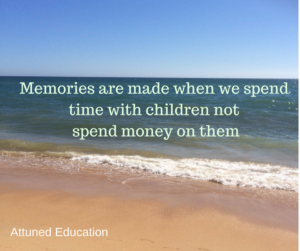 Just like in term time, but possibly without all the after school activities that many children are involved in, when you do get home children will want to spend time with you and show you what they made, tell you what they did, or what their brother/sister did and all you want is five minutes alone to put your feet up with a cup of tea or glass of wine. Well hold that thought because it's usually easier to devote 30 minutes to those little ones and hear their tales, ahh over their drawings or look shocked at the big brother escapades they tell tales about THEN assert you right to a few minutes of peace.
Of course it might not be the best time for you but whenever you choose to do it give some quality time to you little ones, turn off your phone, leave the endless list of chores for a an hour or two and just revel in their company for a while.
Relax some Rules
Holidays are meant to be relaxing!  I know I hear you! As a parent there is never a holiday BUT holidays are also about your mind set – think of it as a holiday in that it is different from the routine of school and think about relaxing a few 'rules'. Bedtime could be a bit later, or maybe it's time for 'teas on knees' or a movie on a midweek evening. Children do need routine and consistency but within that there is also scope to relax a few rules, especially if that makes things easier for you as a working parent.
Independence
With some of the constraints of school out of the way for a while, like homework, then it is also a good time to work on a few different skills – the ones they need in life! So maybe encourage them to get involved in some of the chores, put things in the dishwasher, help with the cooking, setting the table or clearing up or for older ones maybe doing the laundry. Getting themselves organised for the next day in terms of what they might want to take with them is also a useful transferable skill and who hasn't had a child who has forgotten essential items for school! So it's a good time to practise those skills.
Remember to keep it simple
When you do get to have some time off with the children remember that while all children enjoy trips to expensive places they also enjoy lots of simple things, that don't cost much at all.
We are lucky in the UK to have lots of parks, great countryside and free entry museums and places of interest. So think about things like a picnic by a river – or even in the garden – cooking or creative activities using household stuff, camping in the garden, or even in the lounge! They can all feel like adventures for children but don't have to break the bank – for a few more ideas click here.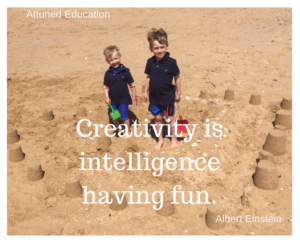 Children love Learning
Children love learning – in our culture we often think of learning as always being very formal but children learn anywhere and time away from school is a great time for them to learn in a less formal way – click here for ideas on how you can do can keep them learning on holiday
Sometimes parents find school holidays a great stress but remember that every summer holiday your children will be one year older so it really is important to enjoy them when you can. For anyone who shares children with a partner they don't live with then holidays are a great time to share the burden and joy of the children and have quality time with a parent they may not see so much of at other times – but this needs planning in advance. The same goes for the extended family – grandparents aunts uncles would all probably love to have time with your children so don't be afraid to ask.
This article was posted in
General
. Bookmark the
permalink
. Follow comments with the
RSS feed for this post
. Both comments and trackbacks are closed.