Updates
October 15, 2017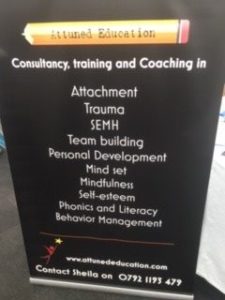 So this is an unusual blog post for me but it has been an eventful few weeks so I thought I'd give a bit of an update and also a reminder about a few upcoming courses.
Exclusions
I was delighted to have an article published in the TES as I do feel very strongly that excluding children from school is never going to solve the problems with behaviour – yes it might get troublesome students out of the classroom, or even school, for a while but unless there is some 'input' or some attempt to work out why they behave the way they do the chances are they will come back into school and behave exaclty as they did before. Have a read and I wouldl love to know your views
Vulnerable Children
Many of you will know that I have worked a lot with vunerable children, those who are in care, have suffered trauma, attachment issues or other 'vulnerabilities' so I was very pleased that my article for the Guardian about ways schools can support such students was published recently.
Particulalry when I have read other artices like one on in the Guardian  Saturday by Deborah Orr  explaining how it's children who suffer during austerity or indeed another one earlier in the week blaming austerity for record numbers of children and young people being taken into care.
Behaviour
I then had the privilege (costly) of exhibiting and presenting at the TES SEN show – first time doing this and you can read a bit on my linked in post about it. I really enjoyed delivering my workshop on 'behaviour management strategies that work' and also chatting to all the teachers, school staff and parents who visited my rather humble stand and a thank you to those who bought my book!! If you haven't yet you can get it from Worth Publishers 
But in fact soon you'll be able to get it from my very own on line shop along with various other items – exciting I know!!!
Parents
As some of you know i have also started to blog for Huffpost and my first blog was about how parents can help their child excel at school you can read it here. and my next one explains why hiring a private tutor for your child can be a good idea I'll let you know when it is published so keep an eye on twitter, facebook, and instagram 
Courses
I enjoyed running a Sounds-Write Course for teachers and school satff recenlty at KingsOak Primary School in Bedford. Sounds-Write is an evidence based, highly effective, linguistic phonics programme. Quite simply in 4 days it not only gives a thorough theoretical background to the teaching of reading  but with lots of practical activities shows adults exaclty how to go about teaching reading to a class, small group or individual child.
The next one is scheduled to begin on Wednesday 1st November (then Wednesdays 8th, 22nd and 29th Nov)at Weatherfield Academy in Dunstable.
If you'd like to book a place either visit Sounds-Write   
or email me.
Other courses
In addition to courses for schools and you can see a complete list of these by clicking on the link at the bottom of this post, please also take a look at our Attuned Success site as we have 2 one day courses in November
Mind design on Novemebr the 11th and a
Business Builder workshop on 25th Novemebr
Both take place in the delightful surroundings of Woodlands Manor and include lunch and refreshments.
You can book places here or by emailing me.